Zionfelix And I Are No Longer In A Relationship: Minalyn Reveals
[ad_1]

For the first time, the baby mother of Ghanaian blogger Zionfelix, known as Minalyn, has discussed her relationship with the blogger.
The blogger's affair with Minalyn, which led to his pregnancy with Erica, a Ghanaian living in Italy, is no longer news.
There has been turmoil amongst the three parties since this blogger's "secret" news made its way onto social media.
Minalyn, who has always kept quiet about everything, has made the decision to start the new year by telling everyone the truth and addressing some claims and comments made on social media.
She clarified in a lengthy message on her official Instagram page that rumors that she is carrying Zionfelix's child or has a son for him are untrue and should be ignored by anyone who hears them.
Moreover, she claims that Zionfelix is now history to her because she is no longer intimately involved with him and has moved on.
To that effect, she claims that because Zionfelix didn't understand the worth of gold (Minalyn), she left him in order to be with someone who does.
Additionally, Minalyn disclosed that Zionfelix's conception of Erica wasn't an accident but rather was planned in advance.
See her full post below:
"Until the lion learns how to write, every story will glorify the hunter". I must admit that everyone is entitled to his or her own opinion, however truth must be told that some opinions are pointing to the wrong direction.
It is against this background that I have resolved to write and address the subject matter being speculated about myself and Zion.
First and foremost, the rumors being speculated that I have taken seed and/or given birth to a baby boy with Zion being the father are absolutely false.
There's no iota of truth in those speculations. I am not pregnant nor have I given birth to a baby boy.
Let me hasten to add that I have moved on with my life and am no longer in an intimate relationship with Zion "Gold they say should be sold to the one who knows the value of it."
If another woman was able to force her way into our relationship destroying it in the process, then this can obviously be attributed to the fact that my partner availed himself and deliberately opened the door for that to happen.
This I can confidently say wasn't a mistake as claimed but was premeditated. You will all bear me out that it is unfair for someone's uncontrollable actions to be my headache or someone else. Posterity will judge us all. I wish him and whoever is involved well.
I wish to express my profound gratitude to all who sent me messages of encouragement and remembered me in their prayers. I am most grateful. To all those who out of hatred fabricated expensive lies against me and jubilated over me, I forgive you all but leave you in the hands of Jehovah. for vengeance is His. In life, It is said that "the dance of a mad man is only funny when he is not your family member."
Remember, the fall of brown leaves is a forewarning to the green ones.
All said and done, I have by this medium concretely established the truth that Zion and I are no longer partners and share no intimacy.
May GOD continue to bless us all Happy new year.
Shalom ??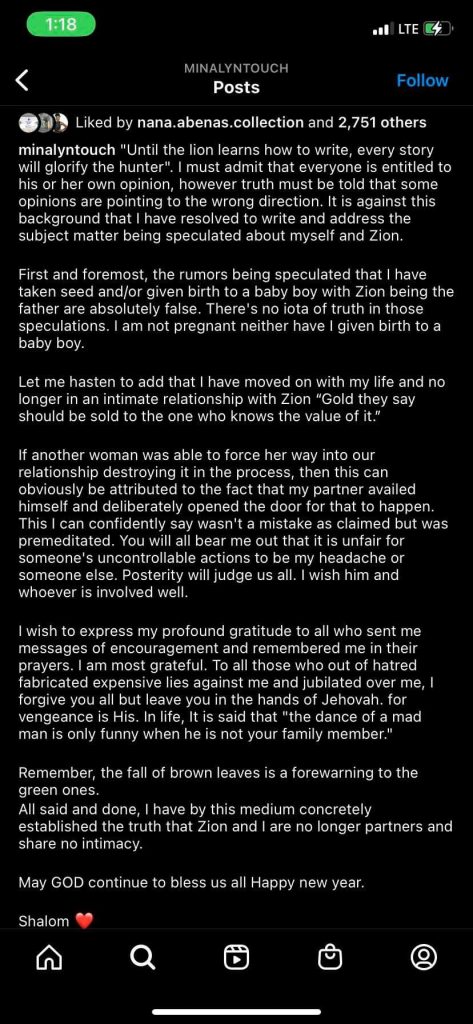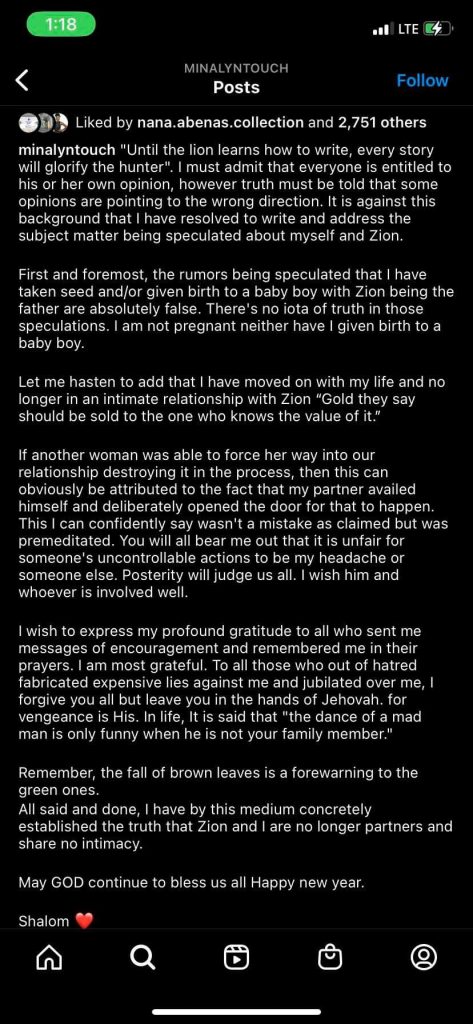 READ ALSO: ASEM ABA! Asantewaa Got Pregnant For Dancegod Lloyd And Did This
Subscribe to watch new videos
Source: OccupyGh.com 
Click Here To Join Our WhatsApp Community
[ad_2]

Source link
Bawumia Donates Ghc 50,000 To Support 47th SWAG Awards
[ad_1]

Vice President Dr Mahamudu Bawumia has donated an amount of Ghc 50,000 to support the organisation of the 47th Sports Writers Association of Ghana (SWAG) Awards.
The SWAG Awards is held annually to honour distinguished Ghanaian sportsmen and sportswomen.
Over 40 athletes who brought honour to Ghana through their performances in sports in the calendar year 2022 are slated to be honoured by SWAG next weekend.
An aide to Dr Bawumia, Tamimu Issah, presented the Veep's 50,000 Cedis donation to the President of SWAG, Kwabena Yeboah, and Secretary General, Charles Osei Asibey on Wednesday, January 18th 2022.
Ghc 30,000 out of the figure is to be used to support the organisation of the entire program whilst the winners of two prestigious categories; the Female Footballer of the Year and the Sports Journalist of the Year – are to receive Ghc 10,000 each.
Kwabena Yeboah expressed gratitude to the Veep for his support upon receipt of the donation.
Dr Bawumia has consistently shown support to sporting organisations and has earned plaudits for his benevolence.
For instance, the 46th SWAG Awards held last year was supported by the Veep with a similar Ghc 50,000 donation.
Other sporting organisations that have benefited from the Veep's generosity aside from SWAG include Real Tamale United (RTU), King Faisal, Hasaacas Ladies, Ampem Darkoa Ladies and others.
The Vice President in particular pays special attention to the development of women's sports, hence his decision to provide Gh 10,000 for the Female Footballer of the Year award winner.
The 47th MTN/Adamus SWAG Awards comes off at the Accra International Center on January 28, 2023.
READ ALSO:
Refused A UK Visa? CLICK HERE FOR HELP
---
CLICK HERE to subscribe to our daily up-to-date news!!
[ad_2]

Source link
Bawumia Is The Man To Rescue Ghana – Frank Annoh-Dompreh On Gold-for-Oil Plan
[ad_1]

The Majority Chief Whip in Parliament, Frank Annoh-Dompreh, has lauded the genius of Vice President Dr Mahaudu Bawumia following the successful takeoff of his gold-for-oil plan.
Reacting to recent news of the policy's successful implementation, Annoh-Dompreh said Bawumia is a gift to Ghana who will rescue us from the current challenges via his unconventional policy ideas.
Taking to Twitter, the Member of Parliament for Nsawam Adoagyiri wrote: "He is a gift to this Nation, let's not take it for granted. Do away with your 'Hatred' for him.. He will rescue us, certainly. Dr. Bawumia, ever proud of him."
His reaction comes after news broke that Ghana has received the first batch of fuel procured under the gold-for-oil policy on Monday, January 16th 2023.
The 41,000 metric tonnes of fuel procured under the government's revolutionary 'gold-for-oil' policy arrived at the Tema Port, delivered by the vessel SCF YENISEI.
The relatively cheaper fuel was procured from the international market with gold instead of U.S dollars in a landmark new policy intended to fight the effects of cedi depreciation on the Ghanaian economy.
Speaking on the policy during his opening of the 42nd Annual New Year School and Conference at the University of Ghana, Legon, Bawumia touched on the ingenuity it took to come up with the policy.
"…We have mined gold for over 200 years, and when I looked at the data I realized that our total reserves of gold in Ghana was just  8.7 tonnes at the end of 2021. One of the largest gold mining countries, we are in the top 10 in the world but we have not accumulated gold to build our reserves.
"We looked at the other side of the balance sheet, we export gold and we import oil. The cost of oil import is about 3 billion dollars a year. So we ask the simple question, why don't we, since we have always got pressure in finding US Dollars to buy oil,  rather reach an agreement to change our gold for oil and then, sell the oil in Cedis and then, use the Cedis to buy more gold, use that gold to pay for oil, sell the oil in Cedis and then you don't need to look for the scarce foreign exchange to buy oil, which always leads to depreciation on the currency.
"With this idea, we said, let us do something that the textbooks don't teach you, let us do something that is out of the box and this is why we said gold-for-oil. We quickly looked at this and we negotiated with the suppliers of oil who were very excited and happy to receive gold in payment. Thankfully, yesterday, Monday, Ghana took its first delivery of oil under the gold-for-oil programme," Bawumia espoused.
READ ALSO:
Refused A UK Visa? CLICK HERE FOR HELP
---
CLICK HERE to subscribe to our daily up-to-date news!!


[ad_2]

Source link
Moy3 Scam Gang – Social Media User Rains Insults On Mafia Gang After Ayisha Modi Sued Diamond Sued For Frahd
[ad_1]

A social media user has rained insults and attacks on Afia Schwarzenegger, Tracey Boakye and Diamond Appiah, aka the mafia gang.
According to the netizen, the three are involved in scamming, blackmailing and all sorts of other clandestine acts to raise money.
She said after raising this illicit money, they come and live large on social media as if they are making legit money but they're just spending the proceeds of their alleged criminalities.
READ ALSO: Frank Nero Allegedly Used Juju To Break Maame Serwaa's Virginity – Actor Claims
The angry tiktoker said Ayisha Modi deserves praise for exposing at least one of the mafia gang members – Diamond Appiah.
Ayisha Modi has sued Diamond Appiah for defrauding her out of over $40,000.
Ayisha reportedly gave Diamond the figure to procure land for her at East Legon but the land was never delivered.
After years of back and forth, Ayisha has taken the case to court.
The angry netizen said Modi should be commended for that whilst attacking the mafia gang for their 'fraudulent' lives.
READ ALSO: I Want Justice – Daniel Duncan-Williams Calls For Father's Arrest After Embarrassingly Causing Him To Be Detained At Togo Border
Watch below…
Source: GhanaCelebrities.Com
READ ALSO:
Refused A UK Visa? CLICK HERE FOR HELP
---
CLICK HERE to subscribe to our daily up-to-date news!!


[ad_2]

Source link